Christmas Gifts & Opening Times
December 20, 2017

Looking After Your Home in Freezing Weather
March 1, 2018
Hastings Insurance Brokers
Providing quality insurance services and advice since 1980
Home Security – Take It Seriously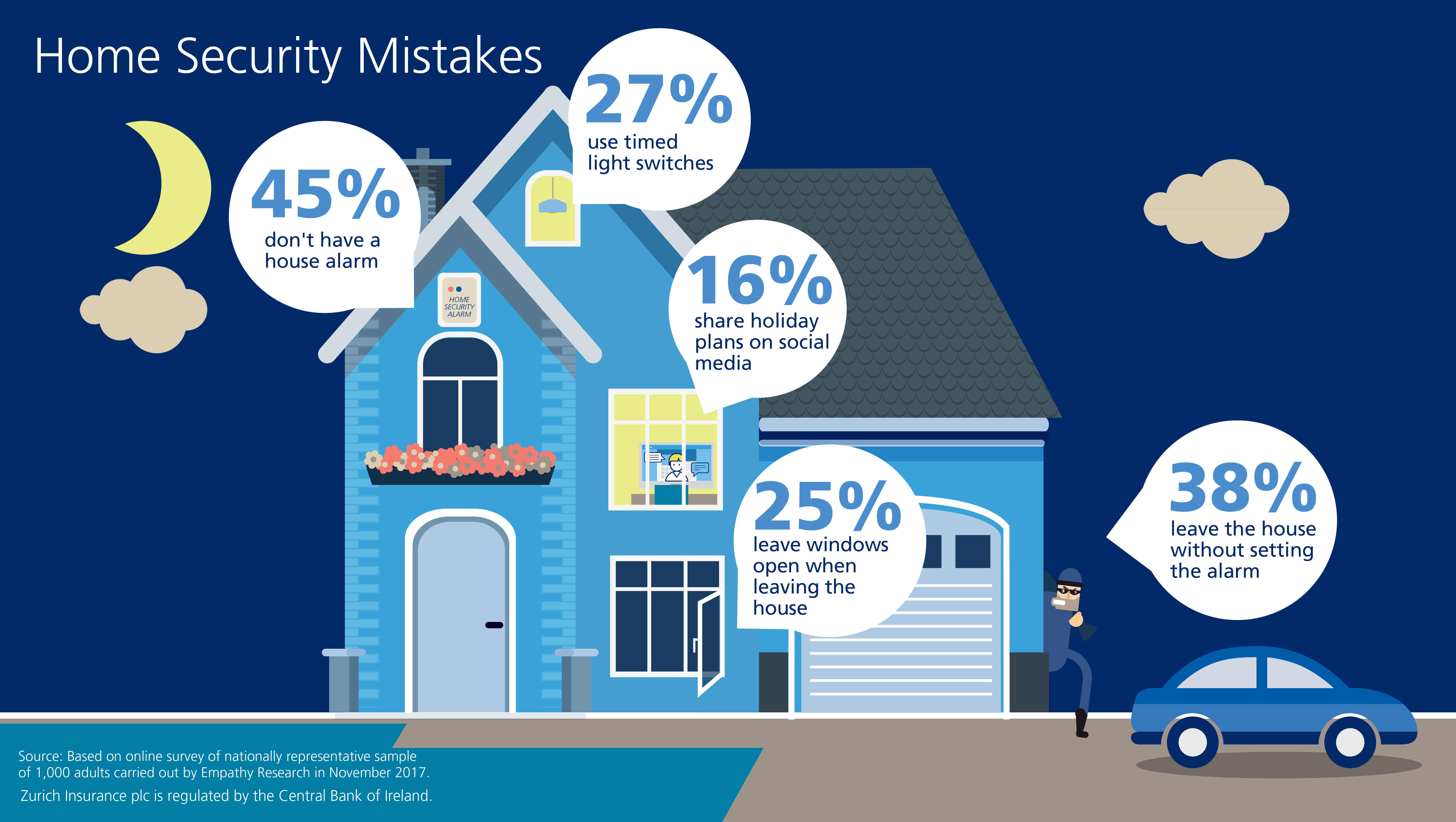 Home Security Mistakes
Despite 1 in 7 people claiming to have been the victim of household break-ins, nearly half of Irish people (45 percent) are currently living in homes without house alarm systems, according to new research commissioned by Zurich Insurance.
The results show rural dwellers are most exposed to break-ins due to poor home security, despite concerns regarding rural crime. Rural dwellers significantly lag behind urban householders for home security with just 37 percent of people living in Connacht and Ulster, and a slightly improved 40 percent of people in Munster, found to have home alarm systems installed, compared with a far higher proportion of 74 percent in Dublin.
While burglars are known to be increasingly using social media as a means of identifying potential break-in targets, the research found that 1 in 6 people (16 percent) continue to share holiday plans publicly on social media, something which Zurich Insurance believes is putting people and their homes at increased risks from intruders.
Click here to get a Home Insurance quote today.
Read more about Zurich's Home Security Survey here.
Tips for Going On Holidays
Keep your plans secret: Be careful when sharing your holiday plans outside of close friends and family, especially on social media, as this could cause thieves to find out when you will be away.
Check alarm batteries: Even the best home alarm systems are rendered useless when the batteries run out, so be sure to check that they are working before you leave.
Cancel all deliveries: If uncollected packages build up in your hallway or porch, it shows burglars that you are not home.
Make your house look occupied: Give a friend, relative or trusted neighbour a key so they can collect excess post and open and close blinds so it looks like you are there in the house.
Tips for Home Security
Use Levered Deadlocks: Fitting and using good quality locks such as levered deadlocks on your doors will make it harder for burglars to barge through them, while fitting a stop to the top of the door frame will prevent the doors from being lifted out of their frame.
Ensure all ground floor windows have locks: All ground floor windows and other accessible windows, as well as fanlights and rooflights, should be fitted with locks, preferably ones with key-operated security bolts with removable keys.
Hide keys out of sight: Remove keys from locked doors and windows and keep them out of sight.
Hide valuables out of sight: Valuables (cash, jewellery etc.), which can be seen from outside, are tempting targets for burglars, so keep them out of sight.
Hide proof of valuables: Storing photos and proof of purchases for your valuables away from the items themselves will prove to your insurance company that you did own these items before they were stolen.
Apply timed switches on lights: Put timer switches on your lights so it looks like you're at home when you're out.
Install home security cameras: They can act as a deterrent and may ward off burglars.