Sustainability: What we do to sustain the planet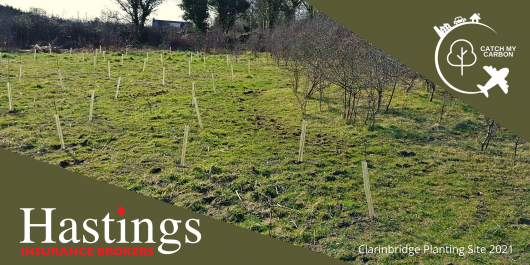 Energy Awareness
Every year at Hastings Insurance we review our energy use from our business operations such as business travel, transport, office heating and air conditioning, lighting and cloud computing. We minimise our usage and local emissions through use of electric cars and sustainable energy providers.
Carbon Offsetting
With our partners, Catch My Carbon we calculate how many trees we need to plant every year to ensure we offset the carbon we create from our operations. Offsetting occurs over a 20 year period as the trees grow and mature. Annual overplanting ensures natural loss is accounted for.
Biodiversity
By planting only native Irish trees Oak, Hazel, Rowan (Mountain Ash), Scots Pine, Alder, Beech and Silver Birch in selected west of Ireland sites we promote biodiversity and create habitats for native species.
Permanent Micro Forests
Catch My Carbon only work with landowners who sign up to their code of ethics to ensure the trees are never harvested, and through a rigorous independent audit we are assured of the processes they use to plant and maintain our trees, every year,
Committed
We are committed to ensuring our business is sustainable and does not contribute to greenhouse gas emissions, and over time will improve our natural landscape leaving a legacy that Hastings can be proud of!