When it comes to planning your future, starting to save is a great place to start. Paying into a Pension is a great way to help ensure you can have the retirement you deserve.
But what is a Pension?
It's a special type of savings plan that offers tax relief for pension contributions and allows you to build up money in order to provide yourself with an income in retirement. It is a long-term savings plan and access to the funds is not permitted until you reach retirement age.
Why not just open a savings account?
With the tax relief available for pension contributions it makes a pension one of the better long-term options for saving your money and as an additional benefit it offers tax free growth. For example, if a 30-year old employee on a salary of €40,000 per year made a monthly pension contribution of €500* they would receive tax relief of €200* which means your pension pot is increasing by €500 per month but only costing you €300*.
*Figures are correct as of 10.06.21, based on a single, fulltime employee on the higher rate of tax. The projected values are net of any charges that may arise. These figures are used for illustration purposes only, terms and conditions apply.
It's important to note that tax relief is based on an age-related percentage limit of your earnings in any year.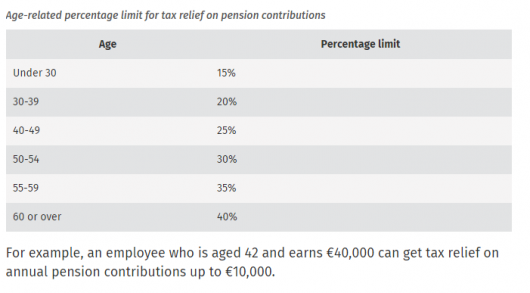 Reference: Revenue.ie
Are you looking for expert advice?
You may need an income for up to 30 years or more when you retire so it's important to start saving as soon as possible. There are many different types of pensions available to suit all different financial goals and budgets. Our financial advisors have years of experience in this area, they can provide you with all the information you need to start your pension journey and choose a pension fund that suits your financial needs.
Call us today on 098 51605, Email financial@hastings.proactivedigital.ie or visit Pensions for more information. We look forward to speaking with you.
WARNING: Past performance is not a reliable guide to future performance.
WARNING: The value of your investment may go down as well as up.
WARNING: The product may be affected by changes in currency exchange rates.
WARNING: If you invest in this product you may lose some or all of the money you invest.